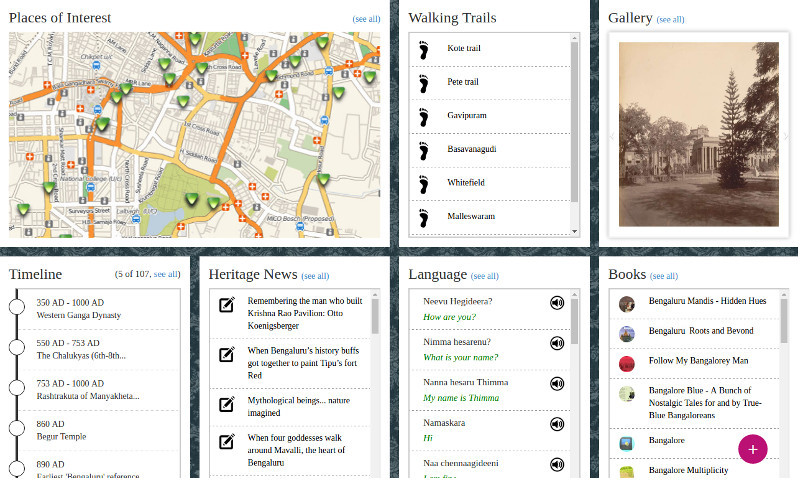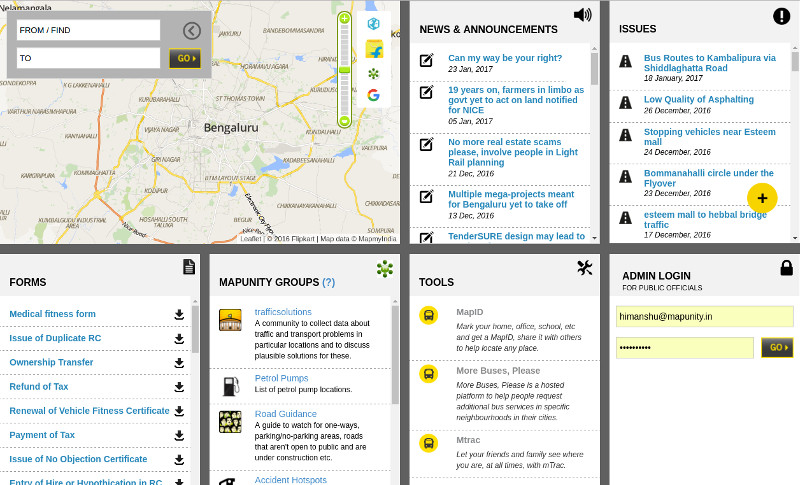 A city is the sum of many sectors, each of which works with a specific set of inputs, managed for outcomes in that sector. Mapunity's focus on integrating these has helped create a technology stack that can be used in many sectors - transport, tourism, heritage, governance, environment, health and education.
Mapunity Transport Information System
Mapunity TIS is a public information and management platform for mobility in cities. It combines information for the public with administrative tools for officials and solutions for different segments of mobility in urban areas.
Mapunity's TIS is also available for the following cities:-
Create a Transport Information System for your city.
Mapunity's TIS features
Find locations and points of interest
Find directions between locations
Make local maps at high resolution showing the streets around any location (useful to put at bus stops, street corners, etc)
Allow people to add their homes and offices to the map search
Allow administrators to mark one-way streets, no-parking areas and other restrictions
Allow users to request additional bus services in their neighbourhoods
Allow users to report any problem related to mobility to the appropriate authorities
Query bus, train, tram and other services in the city to any location
Maintain a list of ongoing public works linked to mobility
Find taxi services, app-based aggregators and other mobility solutions providers
Mark key transit points (airport, stations, etc) and include specific information pertaining to these
Show traffic camera feeds
Show live traffic speeds if available
List pay-and-park locations in the city, with fees, timings, etc. and also facilitate bookings
List the toll locations in the region, along with fees
Show all govt offices linked to mobility (traffic police, vehicle licensing dept. fine payment centres, etc)
Query vehicle ownership records to facilitate genuine second sales
Query fines against individual vehicles that are outstanding, and help clear these
Maintain a list of punishable offences, and the fines for each
Include safety information and campaigns run by the city for road safety
A personal tracker tool that helps families know where everyone is.
A passenger information system to let the public know where their buses are and when they will arrive at a stop
An ambulance assistance program (also useful for other emergency vehicles) to help keep signals green along rescue paths
An asset monitoring tool for all public assets
A school bus tracking solution for educational institutions
List of all application forms used by the government for services in the transport sector
API-based submission of applications (if made possible by the departments)
iOS and Android apps for all of these.
Locations of fuel stations and public charging infra
Locations of hospitals, along with one-click access from transport app for emergency services
Locations of bicycle shops and rentals
Alerting system for announcements and regular PR
Integration with news feeds of news organisations in the city
Bus routes management system (introduce, edit, delete) which is integrated with the passenger information system
Accident hot-spot marking, and highlighting of accident prone locations
Mapunity Heritage Information System
Mapunity Heritage and History is a technology-enabled documentation project of the urban social technology firm, Mapunity, focused on the local history of the city. It combines information on different aspects of the heritage of cities - the built form, a chronology, cultural distinction, and more - to make it easier to know and celebrate the heritage of the city and the region around it.
Mapunity's HH platform is also available for the following cities.
Create a Heritage Information System for your city.
Available features :
Places of interest, shown on a local map
Directions to key places, along with travel information
A chronology of the past in the region around the city
Examples of vernacular architecture from the region
Local cuisine and popular dishes
Local crafts that are distinctive to the region
Local folklore, art, and dances
A quick learning platform the local language of the city
Museums and galleries where local history can be understood and experienced
An events calendar listing the dates on which different notable events are scheduled
Books about the city that are sold in stores and online
Walking tours in the city
Bus tours of the city
Day trips from the city to places of historical interest nearby.
Pictures, videos and audio clips of historical interest
Maps of the city at different times in the past
A social toolbox for users to create and maintain their own memories linked to history and heritage.
Information about governance of history-related matters in the city.